Delivery flights
nil
First flights
= Air India 787-8 VT-NAA msn 36298 ln 595 flew PAE-MWH-PAE as BOE255. Hex code 800741.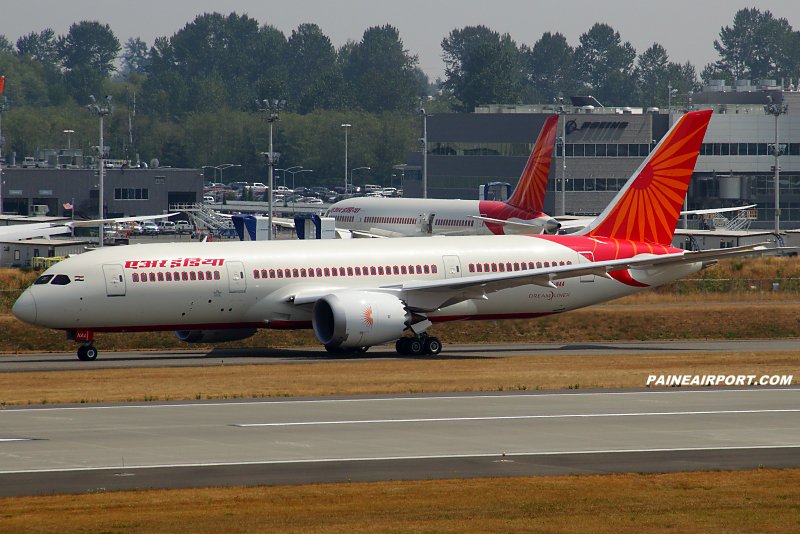 Photo credit:
Matt Cawby
= Flydubai 737-8 Max A6-FMA msn 60965 ln 6456 flew RNT-MWH-BFI as BOE002. Hex code 8964D0.
Others
= China United Airlines 737-89P B-1470 msn 63045 ln 6523 flew BFI-PAE-BFI as BOE812. Leased from China Eastern Airlines.
= Eva Air 777-35EER B-16739 msn 63528 ln 1513 flew PAE-MWH-PAE as BOE812.
= American Airlines 787-9 N829AN msn 40651 ln 587 flew CHS-BFI as BOE455, reason unknown. Hex code still ABC3F8 which decodes to N8572A but seen arriving at BFI wearing N8572C so the transponders are miscoded for this temp reg. Aircraft is fully painted in American livery.
Photo credit :
Joe G. Walker
Photo credit : Paul Varner
= US Navy P-8A 169329 msn 62295 ln 6273 flew BFI-BFI as BOE067 with 8 people on board. Came out of stall 78 at the military flight center.
Photo credit : Paul Varner
= KLM Royal Dutch Airlines 787-9 PH-BHM msn 38776 ln 597 flew PAE-PAE as BOE242 with 9 people on board. Hex code still A00B74 which suggests it's still wearing temp reg N1015B. Leased from Aercap. Named "Marquerite/Margriet".
= American Airlines 737-823 N344PP msn 31272 ln 6531 did a quick taxi test at BFI in the afternoon as BOE147.
= Qatar Airways 777-3DZER A7-BEL msn 64063 ln 1511 flew PAE-PAE as BOE906.
= Boeing's new crew ferry hack, Cessna 208 N208BX did a taxi test at BFI this afternoon prior to entering service.
Production tables and departure times for the all the above are all on my
spreadsheet here
.